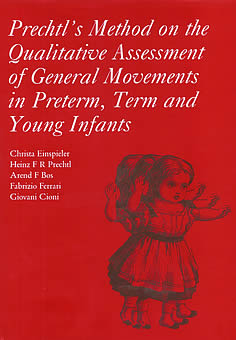 New title from Mac Keith Press
No. 167
Prechtl's Method on the Qualitative
Assessment of General Movements in
Preterm, Term and Young Infants
Christa Einspieler, Heinz FR Prechtl,
Arend F Bos, Fabrizo Ferrari & Giovanni Cioni
ISBN 1 898683 40 9
2004, pp 104, €48.90, UK£30.00, US$55.00
Prechtl's Method provides a quick, non-invasive and cost-effective means of making early assessments of infants to identify any neurological deviations which may lead to cerebral palsy and other developmental deficits later on. The method has high reliability and validity.
There is a pressing need for a reliable way of recognising those infants who require treatment. Equally important is the need to provide parents with a realistic prediction of their child's development.
The DVD supplied with the book includes 15 short films which are invaluable examples of general movements as indicators of brain dysfunction.
---
Clinics in Developmental Medicine are available either individually, or by subscription. Subscriptions to CDM 171-174 (2005) are £187/$303. Distributed by Cambridge University Press worldwide. Available from bookstores or from Cambridge University Press direct. Prices subject to change.


For full details, write to:
Cambridge University Press,
The Edinburgh Building
Shaftesbury Road, Cambridge CB2 2RU, UK

CAMBRIDGE
UNIVERSITY PRESS

Cambridge University Press
Journals Fulfillment Department
100 Brook Hill Drive, West Nyack,
New York, NY 10994-2133, USA
---